Truely Grace Brown is the daughter of Kody and Christine Brown. She is the younger sister of Aspyn, Paedon, Gwendlyn, and Ysabel Brown and Mykelti Padron, the younger half-sister of Logan, Mariah, Hunter, Garrison, Dayton, Gabriel, Aurora, Savanah, and Breanna Brown and Maddie Brush, and the older half-sister of Solomon and Ariella Brown.
Early Life
Truely Grace Brown was born on April 13, 2010, to Kody and Christine Brown. She was the couple's sixth and final child. Truely's father has four total wives, and she has twelve half-siblings from these marriages. Her birth was featured on the Sister Wives episode "A Sister in Labor".[1]
Truely's family moved to Las Vegas, NV, when she was a baby, and she has lived there ever since.
Health Issues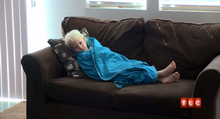 In 2014, Truely was admitted to the hospital for acute kidney failure after her mother took her to the emergency room for what she believed to be the flu. She was started on abdominal dialysis, and was not expected to survive.[2] After eleven days in the hospital, Truely was able to return home.[3]
Career
Television Career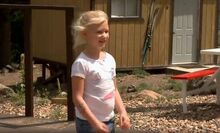 Truely's birth was featured on the TLC show Sister Wives.[4] Since then, she has been regularly featured on the show, which chronicles her family's lives as polygamists. As of August 25, 2017, eleven seasons have been released with no official premiere date listed for season twelve.[5]
References